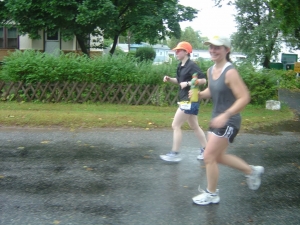 I honestly can't remember if I already announced my four challenges of the year. In case you haven't seen some earlier posts, I'm challenging myself to get in the best shape of my life this year and part of that challenge it to participate in four (ideally one per season) physical challenges throughout the year that I've never done before.
I've decided that the year is March 27, 2011-March 26, 2012.
Here is what I've decided to do:
1) The Warrior Dash—a 3.5 mile run with an obstacle course.
2) The Ragnar Relay—a relay race done with a 12 person team from New Haven to Boston. Over the course of a 36-hour period I'll run about 12 miles. (Some people on our team will run 20 miles, and I am grateful that they wanted to take the longer legs.)
3) Hike the Grand Canyon—this is pending a permit that I really hope I can get.
4) Participate in Cross Country Ski Race—I'm thinking of the one held at the Von Trapp Family Lodge in Vermont.
Part of me is considering topping it all off with a Penguin Plunge at some point, but don't hold me to that.
I'm really excited, and having a goal gives me a sense of purpose for all my training that makes it even more worthwhile than it normally is. I can't wait!