I must live in a hole because I only heard about the Coventry Farmer's Market a couple of weeks ago. It sounded wonderful and I couldn't wait to go. Once I arrived it was even better than I expected. It was huge, crowded (which is great for the local farmers) and had so much to offer.
Matt and I met some friends and had a picnic lunch. We shared a BBQ pork sandwich and a Gorgonzola chicken wrap from one of the vendors. Next time, I'd like to try the oven-fired pizza. There was fresh squeezed lemonade (which tasted especially good since the last time I had fresh squeezed lemonade was in Italy when I'd accidentally ordered fresh squeezed lemon juice–not the same thing).
I stocked up on heirloom tomatoes, zucchini, some goat's milk soap, fresh bread, and cheese–oh the cheese. Everything was so good, but a little pricey.
We spent a couple of hours walking around; lounging, eating and chatting on our picnic blankets, trying the different foods, running into friends and neighbors, and enjoying ice cream from
Salem Valley Farms
(one of my favorites). It was a nice, relaxing day.
When we came home I made a pizza with fresh heirloom tomatoes and the aged cheeses we'd bought. It may have been the most expensive pizza I have ever made, but it was out of this world (and now I get to have leftovers for lunch).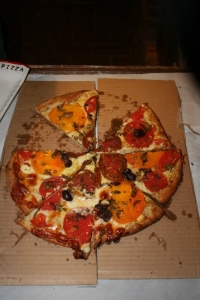 If you've never been or haven't been in a while, I highly recommend a visit to the Coventry Farmers Market. It runs until sometime in October on Saturdays from 11-2pm at the Nathan Hale Homestead. It was family and dog friendly.