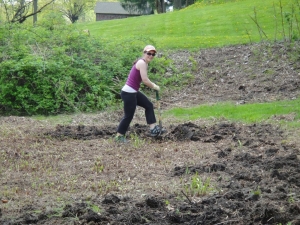 I'd been looking forward to doing some yard work for weeks, believe it or not. I enjoy physical labor, and I like being outside, so yard work is the best of both worlds.
Matt wanted to create a little orchard in our backyard, and, as luck would have it, he got five fruit trees for his birthday. We already have two pear trees and now (if we can keep them alive) we also have a peach, Macintosh, yellow delicious, cherry, and a plum tree.
Luckily, our neighbor cleared the area we wanted to put the trees. He cut back everything, which was a huge help because we never would have finished in one weekend otherwise. I have no idea how to repay him, but I'm open to ideas.
Then Matt and I got to work. After everything was cut back these marshy, invasive grass root balls remained. Take a pickaxe to them and I got nowhere, but Matt was able to get most of them up in about 30-minutes each root ball. […]
Yard Work
Maggie Downie
2017-09-12T19:31:55-04:00