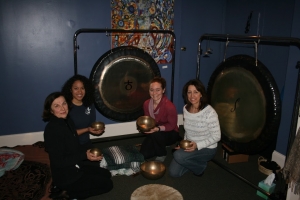 Last week some of the PE staff went to a meditative gong concert at the Conduit Center in East Hartford.   I'd been wanting to try it for months, but all day, I kind of felt like it was going to be lame and that I really didn't want to meditate for 90-minutes.  How was the girl whose record meditation is 45-seconds going to lie there for 5,400-seconds?  That's a lot more seconds.
Then I walked into the building, went up the stairs and immediately felt good.

 

I saw the familiar faces of our staff and was hit with the feeling of warmth and comfort.

 

Granted it was 30-degrees outside and they had the heat cranking, but they had the heat cranking and it warmed the cockles of my heart.

 

They had me at heat.
The room had an option for chairs or lying down with blankets.

  

I went for the floor and colorful […]