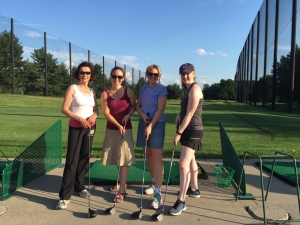 Jeannine, Barb, Jess and I get a golf lesson.
Golf is a good walk spoiled. –Mark Twain
Apparently Mark Twain never had a golf lesson, because it has become clear to me that knowing how to golf makes all the difference.  This summer the PE staff took a lesson with Mike Vitale at Stanley Golf Course in New Britain.
As a Pilates instructor it should come as no surprise to me that learning how to do something makes it easier and more fun.  I had been to a range before and repeatedly pegged the ball into the ground, and much like Twain drew the conclusion that I didn't really like golf.
It wasn't the lesson I doubted as much as myself.  I presumed I was a little hopeless—a former field hockey player in a decade when they eliminated air balls now attempting to swing a long stick to put a ball in the air instead of send it rolling along the ground.