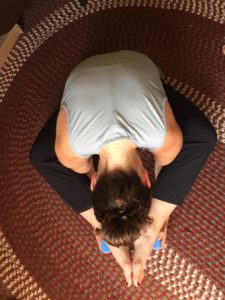 Just me trying to get my feet behind my head and stay relaxed at the same time.
I love to move. I'm always looking for ways to move more throughout the day.  This month on a whim I've been doing an Instagram challenge to try a different, assigned yoga pose every day.  Some of the moves feel great.  Other days I look at the way I'm supposed to contort myself and I just laugh.  I haven't been able to get my feet behind my head since I was six months old.
Most days I play with movement.  I have some monkey bars and I experiment with what I can do with them.  I try to feel what my clients say they feel on certain exercises.  While taking a walk, I check to see if my butt is involved in each step.  When I breathe, I experiment with where I can send my breath.  When watching television, I roll around on Yoga Tune Up balls.  Movement is a game for me.  Discovering what, where and when can I fit movement into my day makes me happy.  I enjoy the challenge.
To some degree this […]