In our new segment highlighting great businesses, goals and adventures of Personal Euphoria clients, this week we visit Glastonbury.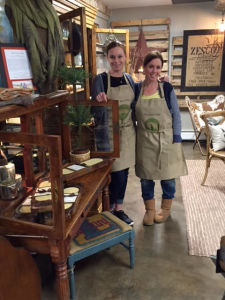 Sarah and Monica in their shop!
Looking for a unique gift? Look no further than The Sow's Ear in Glastonbury.
When you first walk into the store you're met with a cozy, rustic vibe making you feel more as if you're visiting a close friend than walking into a boutique. Surrounded by a collection of new, antique and repurposed items, my eyes don't know where to look first. Whether you are looking for the perfect hostess gift, a present for the wedding you're headed to, or home decorations all for yourself, there is truly something for everyone here. The store carries handmade and sustainable items and works with many small vendors that also have a purpose or story, such as giving a portion of the proceeds back to Reforestation in Thailand.
The owners, Monica McCafferty and Sarah Lavalette, have a great story as well. Both flea market junkies, it's almost as if the two were destined to meet. Monica went to high school with Sarah's husband […]