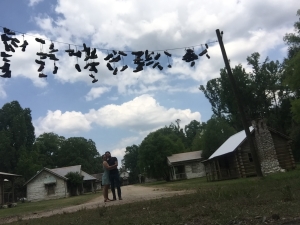 Matt is better at relaxing than I am.  I'm improving though.  This year on his birthday, as always, he got to pick the activities.  So we napped in the living room.  We napped in bed.  And we napped on the deck.  Sadly, this isn't code for anything else.  We actually just took three names in one day and then went to bed around nine.  When we got in bed he said to me, "This was a great day.  We napped on the couch.  We napped in bed, and we napped on the deck."  Cheap date.  I'll remember that next year.
Clearly, we both needed some sleep.  And I know I've gotten more chill because once upon a time that kind of day would have killed me.
My plan for Matt's birthday involved a trip to Specter, Alabama—the faux city from the set of Big Fish.  There he tossed his only pair of shoes up on the line running along the town limits.  We had to drive to JCPenny in stocking feet to go buy a new pair of shoes.
If you're a Tim Burton, Ewan McGregor or Big Fish fan, check out […]