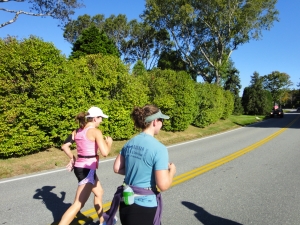 Running 13.1
I'm up to ten mile runs in my training for this year's Hartford Half Marathon. I love the season of long runs. Any day I run ten miles or more before 8am, I feel so productive. Although, then I spend a good part of the day a little sluggish, so it's probably a wash.
Earlier this year a runner-friend of mine asked who or what I pictured chasing me when I want to run faster. I laughed because I've never pictured anything chasing me. And I'm not sure I could use my imagination (which is pretty good) to motivate me that way.
So I told the truth. I'll run faster to get back home and eat some chocolate. Basically, I'll run fast for food over fear.