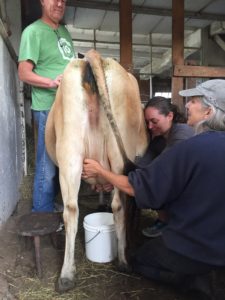 It was suggested to me that this is the best angle to photograph milking a cow.
Finally!!!  I milked a cow.  For years I've wanted to milk a cow, which is a challenging task to complete in Connecticut.  If a farm sells their milk, they are not allowed to let uncertified hands touch their cow's udders.  Unless you have a friend with a cow, it's unlikely you'll be milking a cow in this state.
That is until Matt discovered Local Farm in Cornwall, Connecticut.  Debra Tyler, the owner for Local Farm sets up a great day for groups.  You milk a cow and within an hour you have made butter, cheese and have prepared yogurt and sour cream that will be ready the next day.  Within two hours, you have made ice cream.  You enjoy all the food with the others at the workshop pot luck style.  It's a wonderful way to spend three hours.
In Awe
I was amazed all day.  I had no idea how much food a single milking produced.  It's truly unbelievable how much food one cow creates.  Using only our small sample of people as a gauge, I […]