It all started with a Facebook post.  My friend Amy (who we once went dog sledding with) saw that a family in Canada had made an igloo out of ice blocks.  She posted it on my page and suggested I do it.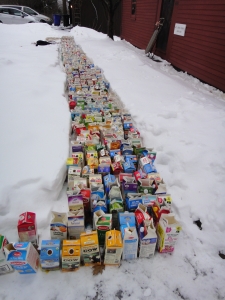 500 Cartons Freezing Outside.
Sold.  I started collecting half gallon, cardboard containers.  My clients dragged bags of them to classes, Stew Leonard's in Newington gave me a ton.  Friends and family collected them.  I even went dumpster diving in my neighborhood on trash night in hopes of collecting enough.  And then Amy saved the day.  She drove 150 cartons from Fairfield, but it all came too late.  It was mid-March by the time we had over 500 cartons and it was too warm outside.
The cartons spent a year in my garage and a hallway upstairs.  Luckily they didn't smell that bad.  I, perhaps, was the only person hoping 2015 would be another cold, snowy winter.  Got my wish.  So I started filling the cartons with water and food coloring and […]