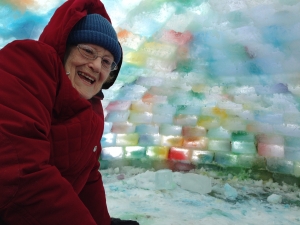 My Grandma inside the igloo for her 89th birthday!
My Grandma will be 92 tomorrow.  She lives on her own, cooks for herself, loves the movies, and is interesting to talk to.  She has moments of forgetfulness and relays a lot of stories from the past and her youth.  Now and then my mom will call me to tell me she is worried my Grandma might be losing it a little.  Sometimes my mom seems right and other times I say, "I do the same thing.  If Grandma has dementia then I must too."
A week after Christmas my Grandma called me to thank me for the beautiful amaryllis I'd given her for Christmas.  She left a message and as I listened, I grew a little sad.  I had not given her an amaryllis.  Perhaps my mom was more right than I realized.  Someone else deserved this thank you.  Not me.  It signaled that my Grandma seemed to be losing it.
Later that night when Matt arrived home, I told him about my Grandma's message and how my mom might be onto something.  "I didn't get her an amaryllis," I told him.  "Yes, […]