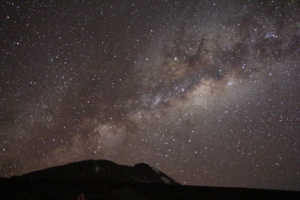 Night Sky on Kili. Maybe I should have just looked up at this for meditation. Photo Credit: Freddy Aguero
While meditation is proven to be beneficial, I just can't do it.  I am possibly the world's worst meditator.  Still, when I was hiking Mt. Kilimanjaro, out of desperation I turned to meditation.  On the mountain during the long, dark night when I was shivering and wondering why I'd done this to myself, I attempted a variety of meditative tactics.
I used visualization, picturing myself sinking into warm, black sand.  I was still cold and awake.
Deep breathing had its turn.
I tried to imagine I was the sun radiating warmth and light.
Counting wasn't helpful.
I tried relaxing my brain.
I tried clearing my mind.
You might just call it lying to yourself, but I told myself I wasn't cold.
Reciting a repeated mantra didn't coax me back to bed.
Eventually, I started singing the lullaby my mom used to sing me as an attempt to self-soothe.  She would rock me to sleep with Summertime—the song where the living is easy.  I imagined it was summer and thought about how somewhere the living was easy.  Nothing seemed to help.
I […]