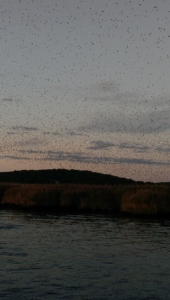 The tree swallows in the sky along the CT River.
Some friends and I went on a Tree Swallow Cruise with RiverQuest down the Connecticut River last week and if you can arrange it you have to go. It's really reasonable ($40 per person) for the time (3-3.5 hours) and what you get to see (half a million to a million tree swallows flying around at dusk).
It was incredible, and if you live in Connecticut it is right here for us. So often when I want to see something naturally cool I feel like you have to travel to see it—Mexico for the butterflies, New Zealand for the glowworms, etc. But this is right here.
You bring your own drinks and snacks and board the boat by the Goodspeed Opera House. It takes about an hour to travel downriver to Old Saybrook while Mindy and Mark, your hosts, point out all different birds and information about the river along the way. Shortly before sunset the birds start to trickle in—a few at a time, then a few more, than hundreds, then they […]