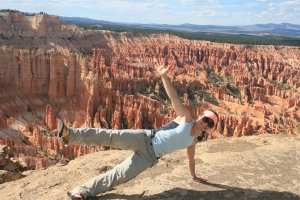 Plank in Bryce Canyon. Plank is one way to strengthen your glute medius and prevent a sexy hip sway!
I just read an article online that was coaching women on the proper way to sway our hips to appeal to men when walking.  Apparently, you can't over-do the sway too much or it will look like you're trying too hard; it's got to be subtle and look natural.  The writer suggested throwing on a pair of high heels and just letting the sway come naturally.  Then they posted a video of two women walking in heels, hips swaying and described it as the "RIGHT way to walk."  The Pilates instructor wanted to cry a little.
I get it.

 

We want to be sexy.

 

And maybe no one cares about proper walking mechanics and why women shouldn't try to sway their hips.

 

But just in case, here is why you should care.

 

Walking properly, with a neutral pelvis, can help keep your joints safer […]
No More Sexy Hip Sway When Walking!!!
Maggie Downie
2018-04-06T08:47:13-04:00