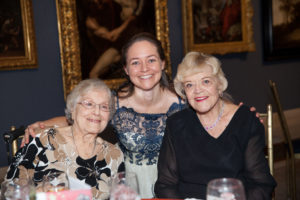 With My Grandmas. Blue-eyed Barbara to my left.
Earlier this year my step grandmother passed away.  Barbara had been my grandma since I was six, and she'd done the job well.  She loved my grandpa and my family. She would openly talk and tell stories of my biological grandma.  Barbara was independent, a lover of theater, music, and the UConn Huskies women's basketball team.  She loved the beach, dancing, and socializing.  Her blonde hair was always done and her eyes were always a brilliant blue.
A couple of weeks before she died, I was visiting with her.  Though she had failed significantly, you could still have moments of conversation with her.  Her baby blues were so striking against the backdrop of her pail skin, so I mentioned how beautiful and blue her eyes were.  She responded, "I never liked my eyes.  I never even thought they were really blue."  I was a little stunned.  That's not a debate anyone else had.  Barbara had blue eyes. End of story.  It made me sad.  For eighty-five years she hadn't enjoyed her own eyes as much as everyone else that looked at her.
I think that […]