How nice it is to do nothing and relax afterwards.—Spanish Proverb
Not long ago in a yoga class, the instructor recited these words.

They struck a chord with me, especially since I've been working on trying to be okay with relaxing and needing to rest.

I wondered if I would ever get to a point where I was completely okay with doing nothing and resting afterwards.
Even as I write this there is a voice in my head that says, "That's obviously not okay.

Things need to get done."

And it's not that I am incapable of doing nothing.

I've gone away for the week to the beach.

Although even there I usually run or read.

Come to think of it, I don't think I ever do nothing.
I guess I'm just still learning and working on finding balance in life.

For the first time in my […]
Relax & Do Nothing
Maggie Downie
2017-09-12T19:34:29-04:00
My boyfriend, Matt, could tell you that I like to be on the move, but taking a break and getting a little rest is also important. I enjoy a good book, a hot bath, and/or a cup of hot chocolate. (I make a mean hot chocolate.) How do you rest and relax? Do you?
Can you mark a day on your calendar right now and put on it an R&R day? Set some time for yourself and know that you are going to get it and that it is just as imperative as all the other plans you are making?
REST
Maggie Downie
2017-09-12T19:31:36-04:00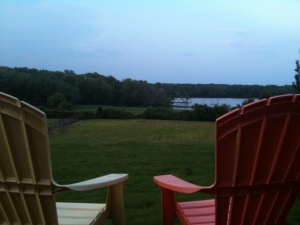 Everyone needs a little time for some R&R. Next time you come to the Personal Euphoria studio in Wethersfield for a private, give yourself a little extra time before or after to enjoy this view. The chairs are there for your enjoyment.
And if you call me on it, I'll try and join you (thereby taking some of my own advice).
R&R at Personal Euphoria
Maggie Downie
2017-09-12T19:31:48-04:00
It is officially the weekend at 5pm tonight. Remember that the weekend is our time for fun and relaxation, so make sure you make time for some R&R this weekend.
You work hard and deserve it.
It's Friday–Relax
Maggie Downie
2014-08-04T18:03:52-04:00