When I ran the Surftown Half Marathon in September I ran about a mile with a guy I'd never met. We struck up a conversation because he was thinking of doing a RagnarRelay and I was wearing a Ragnar Relay t-shirt. I've decided an amusing shirt is a good tool on a long run. It becomes a conversation piece. Next time I'm going to try to come up with something even better than an old Ragnar shirt.
As we chatted he told me that he had a snowboarding injury that left him in a coma.

The doctors gave him a list of activities he'd never be able to do again.

So he decided to prove them wrong.

This year he was running a half marathon and training for a triathlon to prove he could run, swim and bike.

He'd never done any of these activities prior.
After a mile, I slowed down and we parted ways, but in a brief time a man I didn't […]
Do You Need A Coma To Inspire You?
Maggie Downie
2014-08-04T18:02:20-04:00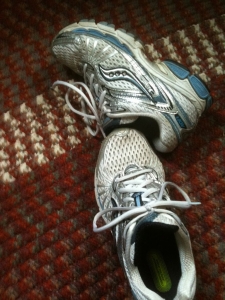 (My poor, lonely, running shoes which will be here doing nothing for at least the next week.)
Hurt My Knee Running Ten Miles
Maggie Downie
2017-09-12T19:31:30-04:00
I'm still amazed at the many ways my body can surprise me.

I think I know my body pretty well and then it does something it's never done before.

Over the weekend I ran the Ragnar Relay for the second time.

This year we ran from Plymouth, MA to P-Town.

The runs were easy and mostly flat.

None of the legs were very long.

I ran 6.5 miles, 6.1 miles and 3.9 for a grand total of 16.5 miles.
I didn't prepare that well.

I ran leading up to the race, but not intensely.

And normally if I know I have a long run, I hydrate and eat really well the day before.

I didn't do that this time.

I think I kept telling myself this was going to be a breeze—I only have to run 6.5 miles at any one stretch and I can get through that.

I didn't tell myself that over the course of a 24-hour period I'd […]
The Body Surprise: The Ragnar Relay
Maggie Downie
2017-09-12T19:31:32-04:00
I'm feeling great (knock on wood). Last week I ran 12.6 miles. I was more sore afterwards than I've been after our long runs, (I haven't been sore at all). On the run I tried a Shot Bloks. It's basically a gummy cube of salt. A friend recommended that I tried them because on days after long runs I was getting headaches. I didn't have a headache, but I also hydrated really well the day before.
My running group also ran "800's." We met at the track and sprinted a half mile and walked a quarter mile six times. I ran my sprints at an eight minute mile—a slow speed for some, but one I have never achieved. I felt like superwoman.
That is the best part of this challenge, so often I feel like I'm really impressive. I felt that way after running the Ragnar Relay. I'm feeling that way now even before the half marathon just because of the good preparation I'm doing. I can really recommend setting up challenges for yourself. If you know you can stick with it, you might end up feeling really good about yourself.
Half Marathon Challenge Update
Maggie Downie
2014-08-04T18:02:42-04:00
So my first challenge the
Ragnar Relay
was awesome. My second challenge the
Warrior Dash
was a dud. The Dash wasn't, but I had an ear infection and couldn't go. I wanted to be the people in these pictures, but I didn't get to be (at least this year). My third challenge was going to be to hike the
Grand Canyon
, but we got rejected from the permit pool. (Keep your fingers crossed because I've applied again.) The Grand Canyon still may happen, but I was starting to feel a bit disillusioned with my challenges.
It wasn't just that they weren't working out as planned, but at first I felt like I was only getting prepared for them one week in advance, which wasn't really the point. Then I started hiking a lot and was feeling like I was in really great hiking shape when I got the news that we were rejected for […]
The Challenge Update
Maggie Downie
2017-09-12T19:31:50-04:00