I'm still amazed at the many ways my body can surprise me.

I think I know my body pretty well and then it does something it's never done before.

Over the weekend I ran the Ragnar Relay for the second time.

This year we ran from Plymouth, MA to P-Town.

The runs were easy and mostly flat.

None of the legs were very long.

I ran 6.5 miles, 6.1 miles and 3.9 for a grand total of 16.5 miles.
I didn't prepare that well.

I ran leading up to the race, but not intensely.

And normally if I know I have a long run, I hydrate and eat really well the day before.

I didn't do that this time.

I think I kept telling myself this was going to be a breeze—I only have to run 6.5 miles at any one stretch and I can get through that.

I didn't tell myself that over the course of a 24-hour period I'd […]
The Body Surprise: The Ragnar Relay
Maggie Downie
2017-09-12T19:31:32-04:00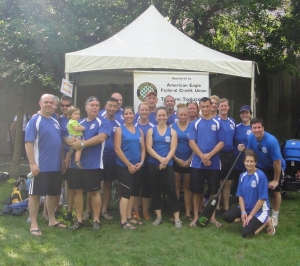 Dragon Boat is officially over for the season. This is my first Tuesday without practice since mid June. I'm going to miss it. Last week we saw a bald eagle twice. It flew over our heads letting us know it wanted us to get out of its hunting ground. Last week the weather was perfect and it was a fabulous way to end the season. On Tuesday there was steam coming up off the water in mini spirals that looked like small tornados. It was a beautiful. I wish I had a camera.
One of the staff from Riverfront Recapture (who organizes the race and lets us use a boat for practice) reminded us that while some people were starting their day tense, gripping the steering wheel while driving to work, we were calm and out on the water enjoying nature. I love starting Tuesdays and Thursdays with Dragon Boat all summer.
You can't beat it. It was a fun season. It helps that we raced so well in Hartford. We came in second place, .03 […]
Dragon Boat is Over
Maggie Downie
2017-09-12T19:31:48-04:00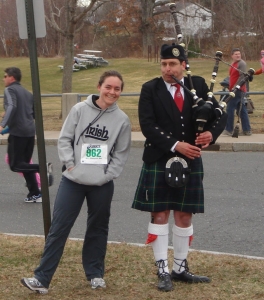 A couple weekends ago I participated in the
Shamrock Run
in Bristol, CT. I had signed up for the five mile race, but because I didn't want to wait an extra hour in the cold between registration and the five mile race, I ran the two mile race. Matt ran with me and was thrilled we decided to cut our run in half. It was his first road race, and he did better than me. He ran ahead and waited for me at the end so that we could cross the finish line together. I was quite proud of him. He's a really good sport for coming along.
The Shamrock Run put on a great event. Free food and other trinkets were plentiful and it was well organized with a big crowd (probably around 3,000 people). Before the two mile and five mile race started, they had a kid's fun run. One young man (I would guess around six) was running with crutches. I don't know what condition he had, but I imagine he had something […]
An Inspirational Child
Maggie Downie
2017-10-25T14:30:12-04:00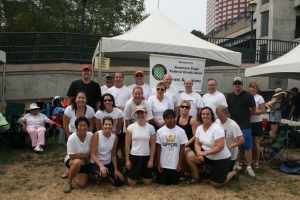 So last Saturday was my first Dragon Boat race. If you take my classes you probably heard all about it during plank. It was awesome, especially because my team did so well and paddled together in such syncopation.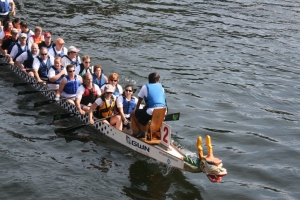 I really enjoyed the day. I especially enjoyed coming in third (with only a few seconds between us and first place) out of forty-some-odd teams, but that is my competitive spirit shining through.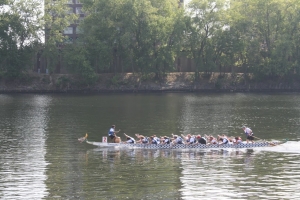 What shocked me the most was how tired I was. I've played sports most of my life, and, in the case of field hockey, you spend an hour on the field running around in a squat position. Once the season got going, I played in games two to three times a week and didn't feel particularly sore after the game (and I put my all on that field–it […]
All About Dragon Boat
Maggie Downie
2017-09-12T19:32:10-04:00