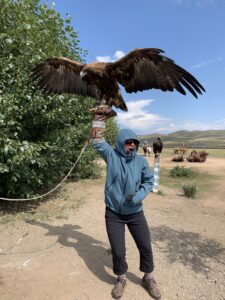 Golden Eagle in Mongolia
A documentary called the Eagle Huntress inspired me to go to Mongolia. It's a film about a young girl who wants to be the first eagle hunter in Mongolia in a world where that role is passed from father to son. It's a beautiful movie. I highly recommend it.
Opportunity in Mongolia
Along our travels, unexpectedly, at a tourist destination there was an opportunity to hold a golden eagle. Matt jumped at the chance. I wanted to hold the massive bird, but was desperately afraid. The wingspan of these giant birds is wider than I am tall. As we walked around the site, I kept thinking, "if I leave this country without holding an eagle when I have the chance, I will be so mad at myself. I have to do it." I told Matt. He'd help me get the job done. Accountability and support from those we care about can help us do many things we are unsure we can manage.
Overcoming Fear in Mongolia
My fear was that the bird would peck out my eyes or tear off my ear, so I wanted those areas protected. I put […]