So a couple weeks ago at the Wethersfield Farmer's Market I bought a recipe book for raw smoothies.

It has 30 smoothie recipes, so Matt and I have challenged ourselves to try all thirty.

We aren't shooting for 30 all in one month, that would be a tad too much pressure, but we want to try them all in a timely manner.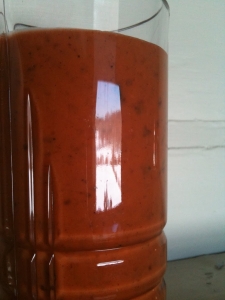 So far, we've tried two and it's just okay.

The smoothies call for a lot of nuts and it just makes them so heavy.

But I'm learning.

I think I should reduce the nuts a bit and add more ice.

That will make me more likely to stick to this challenge and make them again.

But then the downside is that I think I'll get hungry quickly.

When I started, I assumed I'd use the smoothies as a snack because there was no way a smoothie could be a meal, but […]
Thirty Smoothies!
Maggie Downie
2017-09-12T19:31:27-04:00
If I never see another nut again as long as I live I will be happy. I honestly thought I would feel better on the vegan diet. I thought I'd feel lighter. When I was a vegetarian for five years I remember that I never felt as heavy after a meal. I wasn't actually lighter, but it was just an anecdotal feeling.
Week two felt better overall either because I started getting used to the diet or because I added some fake, processed foods my body is used to, but week one where I ate a lot of soaked and pureed nuts I was a bloated, gassy mess and felt awful the whole week.
Adding a lot of vegetables didn't make my digestive track happy either. I know veggies are supposed to be great for you, and I believe that, but they can be hard to digest. I often feel like my insides would prefer carbs (usually in the form of pasta, bread, or cereal). Maybe my insides are just lazy and they know digesting carbs will be easier for them than digesting fresh veggies, especially raw veggies.
I'm sure my anti-nut phase will pass because I […]
Going Nuts for Nuts
Maggie Downie
2017-09-12T19:31:49-04:00