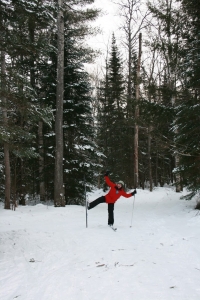 So my final challenge was supposed to involve cross country skiing. I was hoping to get some practice in before finding a race to participate in, but unlike last year at this time we have no snow. And this weekend a 10-mile cross country tour I was going to take got cancelled in Vermont because of lack of snow. In February I'm going to New Hampshire for a
Chocolate Festival
where you ski from inn to inn to pick up chocolate, but I'm not sure that is going to count as a challenge. (Although, I could consider the chocolate as energy to get me through the next leg of the trek like goo on a marathon.) So I'm still searching for one final challenge that I need to complete and prepare for before March 27th.
While I'm at the chocolate festival some of my running buddies […]
Final Challenge Dilemma
Maggie Downie
2017-09-12T19:31:38-04:00
I wish we left Christmas lights up until the end of January. In winter it gets dark so early and it is so cold and drab, the lights help to put a smile on my face. I appreciate anyone who lets their lights linger past Christmas Day.
I never want this time of year to be over. Heading into winter is hard, but I have found having fun winter activities and plans helps. Last year I started cross country skiing and now I'm actually looking forward to the cold, snowy months. I'm planning on going to a chocolate festival in New Hampshire in February and that is just something to be excited about during the winter months.
Look at your calendar and see what fun you can add to your winter plans.
Lights Aglow All Winter
Maggie Downie
2017-09-12T19:31:39-04:00