Last year Irene destroyed all my hiking plans by taking down trees and destroying trails with her massive flooding in New England. So this year, having not done any serious hiking for what felt like an eternity, I was a little nervous and felt out of my normal hiking shape. Therefore, when Matt and I were up in North Conway, New Hampshire we did some easier hikes—nothing like Mt. Washington or Lafayette. Instead we decided we'd try to do two 4,000-footers in one day. It turns out covering 4,000 feet is considerably easier than 6,000-feet. It was nice to feel like the hike wasn't that hard.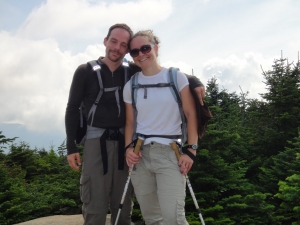 While you get an easier hike with a shorter mountain, you also get less time above the tree line.

Mt. Pierce, though taller than Jackson is still pretty much surrounded by trees and part of me, though invigorated felt a little disappointed at the top.

It's always nice to have reached the top, but it […]
Maggie Downie
2017-09-12T19:31:28-04:00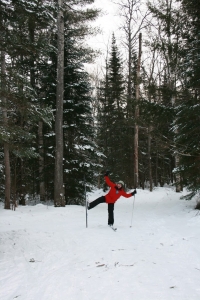 So my final challenge was supposed to involve cross country skiing. I was hoping to get some practice in before finding a race to participate in, but unlike last year at this time we have no snow. And this weekend a 10-mile cross country tour I was going to take got cancelled in Vermont because of lack of snow. In February I'm going to New Hampshire for a
Chocolate Festival
where you ski from inn to inn to pick up chocolate, but I'm not sure that is going to count as a challenge. (Although, I could consider the chocolate as energy to get me through the next leg of the trek like goo on a marathon.) So I'm still searching for one final challenge that I need to complete and prepare for before March 27th.
While I'm at the chocolate festival some of my running buddies […]
Final Challenge Dilemma
Maggie Downie
2017-09-12T19:31:38-04:00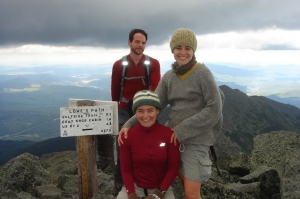 I'm pretty sure the song is, "Come on, Ilene," but post tropical storm Irene I've altered it so that I can whine and have a disgruntled plea to Irene to erase all that she did. This whining is unwarranted because I was very lucky, not only do I have my home and wasn't trapped anywhere, but I only lost power for about 36 hours. In the scheme of things: not bad at all.
But Irene has not gotten in the way of my preparation for challenge #3 (Hiking the Grand Canyon) and my yearly Labor Day tradition. For probably the past 10 out of 12 years I've gone to New Hampshire with friends to hike in the White Mountains. This year we were going to go backpacking (which we've done before) and hike 8 miles one day and 11 the other (which we haven't). We were using the trip as preparation for the Grand Canyon, but Mother Nature saw fit to destroy some of the roads to get us there and wash out many of the trails.


Come On, Irene
Maggie Downie
2017-09-12T19:31:47-04:00