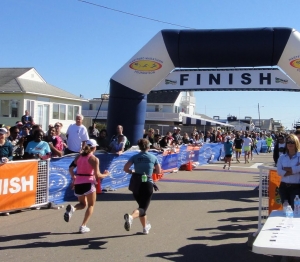 So I signed up for Surftown again this year. It's a pretty flat course that runs through Misquamicut Beach and Watch Hill, Rhode Island. Running past the homes and landscaping can keep you entertained for 13.1 miles.
I was nervous going into this race.

I hadn't trained as well as I did last year.

Last year I'd run over 12 miles before the big day and I did weekly sprint workouts.

This year there have been no sprits for me, and I'd only run ten miles once prior.

I'd made other attempts, but at mile eight my knee and hip would start bothering me and I'd have to stop and walk or walk/run the rest.

Pilates and massage have been getting me through.
I was positive I'd need to stop and walk the end.

Two days before the race, I went out for a five mile run and had […]
Surftown Half Marathon
Maggie Downie
2017-09-12T19:31:27-04:00
So my first challenge the
Ragnar Relay
was awesome. My second challenge the
Warrior Dash
was a dud. The Dash wasn't, but I had an ear infection and couldn't go. I wanted to be the people in these pictures, but I didn't get to be (at least this year). My third challenge was going to be to hike the
Grand Canyon
, but we got rejected from the permit pool. (Keep your fingers crossed because I've applied again.) The Grand Canyon still may happen, but I was starting to feel a bit disillusioned with my challenges.
It wasn't just that they weren't working out as planned, but at first I felt like I was only getting prepared for them one week in advance, which wasn't really the point. Then I started hiking a lot and was feeling like I was in really great hiking shape when I got the news that we were rejected for […]
The Challenge Update
Maggie Downie
2017-09-12T19:31:50-04:00