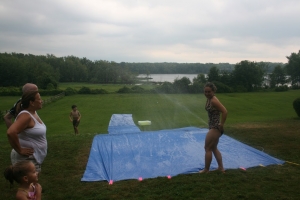 When Matt and I bought our house in Old Wethersfield we decided it would be fun to have a giant slip and slide party with an adult-sized slip and slide. We'd learned that Toys R Us only sells them for kids, which means as a fully grown person the ride is very short-lived and chances are you are too wide to ride.
Over two years later we finally got around to hosting a slip and slide party with a 140-foot long slide.

We had over fifty friends and family coming over for a summer picnic and a slip and slide party.

An hour in it started to rain.

I think a slip and slide party is probably the only type of summer picnic that rain could help improve.

We were able to turn off the hose and the speed of the slip and slide nearly doubled with all the water running down.

It was so much fun.

I felt ten years […]
Feeling Ten Again: Giant Slip & Slide
Maggie Downie
2017-09-12T19:31:29-04:00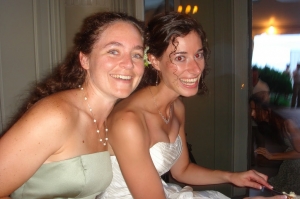 Julie is my best friend. We have known each other since kindergarten. Nearly two years ago she moved to Chicago. While it's great to have an excuse to go to the Windy City and have someone local show me around, I miss her tremendously.
So when I woke up the Saturday before my birthday and discovered her in my house (she had flown in and Matt had picked her up at the airport while I was sleeping), I was most surprised. It was the best birthday present ever—even better than swimming in Jell-O.
It meant so much to have her here that weekend. Thank you Julie and Matt for knowing me better than I know myself, and recognizing how important it would be for me to have my best friend around on my 30th. It really will always be hard to top that gift. I hope you both realize that.
Good friends (whether they be friends you met in school, later in life, or family members you connect with in a special […]
Best Friend
Maggie Downie
2017-09-12T19:31:56-04:00