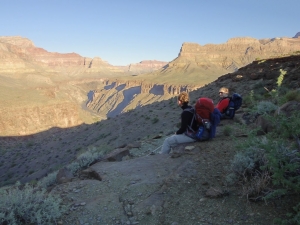 Hiking the Grand Canyon
was my 3rd challenge of my 30th year. I didn't get to do as much hiking as I'd hoped for to prepare, and Irene washed out our regular backpacking trip in the White Mountains. I was nervous about so many things—my knees, having enough water, the temperature, the terrain, heights, falling off into the great abyss. Luckily, I didn't have a problem with anything I anticipated. The trail was easier than the trails I am used to in the White Mountains, but it was covered for good portions in small rocks that I termed "ankle biters." It would be so easy to roll or sprain an ankle in the Grand Canyon. We had no ankle sprains and perfect weather—about 80-degrees during the day and we were able to hike in the shade for good portions of our trip.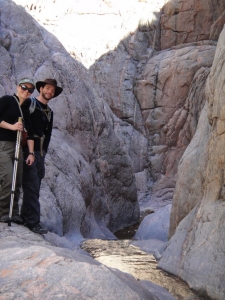 The hike was not as hard as I'd expected. Down […]
Grand Canyon Part II: The Challenge
Maggie Downie
2017-09-12T19:31:41-04:00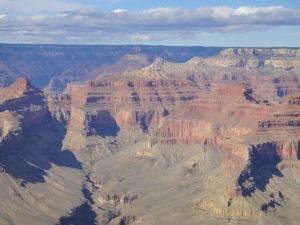 The name is fitting. If nothing else the Grand Canyon is certainly grand. The size is enormous. There are rocks of every color. Red, oranges and yellows I expected, but the blues and greens in the landscape surprised me. When the moon sets in the morning, but before the sun comes up the stars are super bright and look like silver pinholes in the sky. But what impressed me the most was the silence. Once a mile down in the canyon, if you stop walking and just listen, you'll find there is nothing to listen to. No helicopter tours; no raging Colorado River (unless you are within ear shot of the river because that is loud), no animal noises, no buzzing electrical wires, no people, no cars, no wind in the trees. I think it is the quietest place I have ever been. I would have thought that might be eerie, but I loved it. It was calming. For someone who can't meditate and quiet the mind, it seemed great. It drew me in to appreciate the stillness […]
The Grand Canyon
Maggie Downie
2017-09-12T19:31:41-04:00
Technically the half marathon I ran on Sunday was still in summer and my hike to the Grand Canyon in October will be in the fall. They are in two separate seasons, but they are only separated by a couple of weeks. I sort of accidently wound up with two of my four challenges back-to-back. I was using these challenges to get myself in the best shape of my life throughout the year. I've been hiking and running a lot and I actually feel like I'm in pretty good shape right now, but my concern is that I will crash and burn and have a few months of nothing. I don't want to lose all my progress.
Right now my final challenge isn't planned until the winter (meaning February). So I think I need another challenge to get me excited and push me to prepare for it between now and then. Any ideas?
Extra Challenge
Maggie Downie
2017-09-12T19:31:46-04:00
So my first challenge the
Ragnar Relay
was awesome. My second challenge the
Warrior Dash
was a dud. The Dash wasn't, but I had an ear infection and couldn't go. I wanted to be the people in these pictures, but I didn't get to be (at least this year). My third challenge was going to be to hike the
Grand Canyon
, but we got rejected from the permit pool. (Keep your fingers crossed because I've applied again.) The Grand Canyon still may happen, but I was starting to feel a bit disillusioned with my challenges.
It wasn't just that they weren't working out as planned, but at first I felt like I was only getting prepared for them one week in advance, which wasn't really the point. Then I started hiking a lot and was feeling like I was in really great hiking shape when I got the news that we were rejected for […]
The Challenge Update
Maggie Downie
2017-09-12T19:31:50-04:00