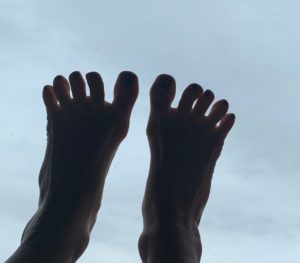 You have a band of fascia that might be causing pain in the bottom of your foot. It's known as your plantar fascia (usually it is the only type of fascia that anyone has heard about). When it is inflamed and you experience pain that is known as plantar fasciitis (PLANTAR FASCIITIS ). The good news is, at least in my experience, this is not a permanent state of pain.
Though you might have to do some maintenance to keep the pain away, most people with PLANTAR FASCIITIS are able to return to a normal life without pain at every step.
So What Can You Do?
The key to relieving plantar fascia pain is to stretch all the related muscles. This includes both calf muscles and the hamstrings. That's right, tight hamstrings are strongly linked to plantar fasciitis.
Also, you can do self message on the foot or roll the foot on a soft ball. You don't have to combat pain with agony, so if a tennis ball hurts, there is no need to use an object that firm.
Stretch What?
There are three muscles to focus on stretching when you have PLANTAR FASCIITIS .
Stretch the Calf
When […]