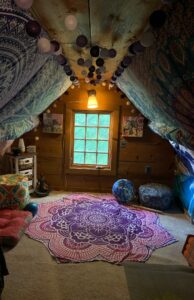 I got myself geared up to meditate. To prepare, or maybe it would be fair to say to postpone even the prospect of meditation, I considered what I truly required in order to meditate to my full potential. Though all that is essential for mindful introspection is a living body and mind, I decided I needed an entire room devoted to mindful contemplation.
A Meditation Room
Instead of sitting in the chaos of my life and contemplating, breathing, or trying to quiet my mind, I added another item to my to-do list: create a meditation room.
For Christmas I asked for all the items one would need to meditate properly: mandala wall hangings, purple hanging lights made in China, a diffuser with essential oils, and small knick-knacks like a figure of someone sitting cross-legged. With all my items gathered, I took to transforming a small room in the attic into the ideal meditation haven.
Proper Preparation
I entered with vacuum, lemon oil, rags, and paint brushes to wipe the walls of cobwebs and vacuum years of dust and debris. With minimal curses, I dragged out the abandoned futon frame hiding in the room for years. Once […]