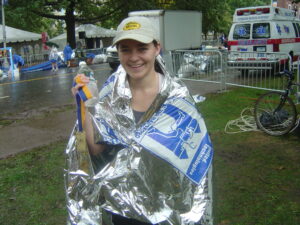 Finishing the Hartford Marathon
Thirteen years ago I ran the Hartford Marathon without training.  It was a terrible idea and I wasn't in the shape required to run 26.2 miles.  The strangers on the sidelines inspired me to keep going.  They had come to see a friend or family member running, but they'd cheer me on by mentioning something specific about me as I ran by them.
You Are An Inspiration
I often remember the crowds that day who came out in the pouring rain and made such a difference in my ability to reach a goal.  Do you realize how often you motivate people?  Sometimes we take for granted or don't always recognize the ways in which we inspire others.  But we inspire people all the time in ways they remember that aren't a blip on our radar.
From mile 14 on, I pretty much considered quitting every five minutes.  Then a stranger would say something that boosted my spirits.  None of them remember me.  They saw thousands of runners sprint passed.  They stood in the rain for hours to support a bunch of crazy runners and it was their words of encouragement […]