Really, when it comes to eating healthy this is the best time of year to get back on track, except for the fact that ice cream exists.

Still, if you are local to Connecticut, we have some great farmers markets.

The Coventry farmers market is my favorite place to spend a Sunday morning, and I've really been enjoying the Thursday afternoon Wethersfield farmers market.

They have a great location on cove park right be the DMV.

It's a great place to come for a stroll and then pick out some local veggies, cheeses, pies, smoothies, crafts, eggs, humus, and milk.
But it got me thinking that this is the time of year to really try a challenge.

I even have my own garden that is producing all sorts of fun, healthy items.
Here are just some healthy challenges I thought of.

Since it's summer and I don't want anything to really feel like extra work, I thought […]
Fun Summer Food Challenges
Maggie Downie
2017-09-12T19:31:29-04:00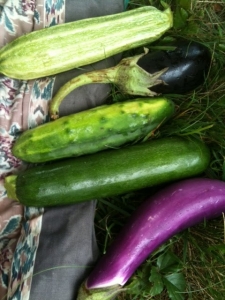 I love the Coventry Farmer's market. If you've never been, it's a real treat on a Sunday afternoon. When Matt and I have a free Sunday, we like to go and get lunch from one of the vendors, eat a picnic lunch and then stroll around and buy some fresh veggies, cheese, breads or soaps. It's a nice way to spend a couple of hours. The veggies above are all from the market.
I'm happy to try new things, but I also can get stuck eating something I know I like. One of the vendors offers a pulled pork sandwich topped with coleslaw. I'm a big fan of this sandwich for lunch and usually get it. As a vegan this was not a good option. So I tried a veggie burrito sans cheese. It was great. I didn't even miss the cheese; it was so flavorful. It's not that I never would have tried this burrito, but it's highly unlikely I ever would have tried it without cheese. And now I now it's good. I don't need […]
Vegan: A Positive Point
Maggie Downie
2017-09-12T19:31:49-04:00