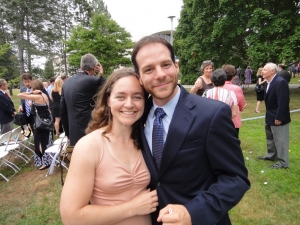 This Saturday Matt and I celebrated 11 years together. He is a joy and my favorite friend. He is a big part of Personal Euphoria because Matt encouraged me to take the leap and quit my day job to start PE and begin teaching Pilates full time.
One of our favorite pastimes is to stroll around Old Wethersfield.

We love doing it so much we moved here.

In all our travels we have yet to find a town where we enjoy walking as much.

Not only does Old Wethersfield have such a quaint New England feel, but it's flat and you can walk forever.

We have a three mile and five mile loop that we do regularly.

In my experience it's hard to find a place where you can walk on sidewalks, have great views. and walk that far without repeating yourself.
Walking is good for our health, but it's also good for our minds.
Matt: My Favorite Person
Maggie Downie
2017-09-12T19:34:31-04:00