Last summer I read the China Study and tried the recommended no animal protein diet for a month.

As a 28-day vegan my HDL and LDL both dropped considerably, but my body didn't feel good.

I was bloated and uncomfortable the whole month.

I don't think veganism was meant for me, but I like the idea of eating and incorporating more whole foods into my diet.

And I like that someone was doing research that empowered people and provided a potential choice over some medications for certain problems.

Can diet really cure our health problems in this country?

The answer isn't easy.

It depends on the problem and the person.
I think generally each person has to find a diet and lifestyle that works for them.

Obviously if you have health issues you may need to make more ardent changes, but if you are healthy you can sometime get away with a little more flexibility.

Some people might do very well on a […]
Forks Over Knives
Maggie Downie
2017-09-12T19:31:29-04:00
We were Vegan for one month after reading the China Study, which claimed that eating animal protein was bad for your health. We wanted to see if some of the claims made in the book were accurate. We had blood work drawn a couple days before we started and drawn at the end of the month. Our results just arrived and here they are:
Maggie
Non Vegan Vegan
Glucose 72 76

Protein 6.6 6.6

Cholesterol 183 143

HDL 61 47

LDL 105 88

HDL Ratio 3.0 3.0
Matt
Non Vegan Vegan
Glucose 82 87

Protein 6.7 6.9

Cholesterol 176 145

HDL 65 67

LDL 91 67

HDL Ratio 2.7 2.2
In both cases we were within healthy ranges. Our bad cholesterol (LDL's) both dropped, but I was surprised to see that my good cholesterol also dropped. Maybe that's why I was craving eggs constantly.
Not being someone who has a problem with cholesterol or heart disease (as far as I know), the vegan diet would be very hard for me to stick with. However now that I've done it for one month I am curious to know if I continued with […]
Vegan Diet–The Results Are In!
Maggie Downie
2014-08-04T18:02:41-04:00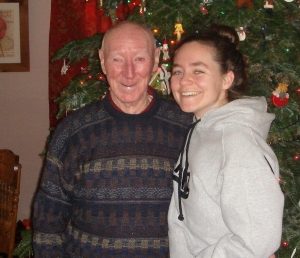 Note to Self: You may think that the night you start a vegan diet based on reading a book that if you see the author of said book in an interview it would only impress upon you the benefits of said diet more, but you would be wrong.
In the book that inspired me and Matt to start this Vegan diet, the author talks about how he is on in years, but how eating no animal protein has kept him active and with it. He compares himself with a couple friends with dementia, and I suppose if you compare yourself with dementia patients and you have all your mental faculties you would seem great, but I compare people to my grandparents.
The author is 77, assuming the accuracy of the internet. If I were going to give up all animal protein, at the age of 77 I'd want to be doing a whole lot better than this guy. He was slow moving, didn't get the basic point of some very basic questions, missed all the […]
Will I Stay Young & Healthy on my Vegan Diet?
Maggie Downie
2017-09-12T19:31:50-04:00
On vacation I read The China Study by Dr. T. Colin Campbell and Thomas M. Campbell II. It links nutrition and disease, and claims that if we cut out almost all animal proteins (meat, fish, dairy, eggs) we could reduce our chances of getting multiple diseases and greatly lower our cholesterol and have far healthier hearts.
So my boyfriend, who could eat pizza every day of his life, has suggested we try to cut out all animal proteins and go completely vegan for one month. I am not looking forward to being a vegetarian again, but today we start a month-long plan of no animal products. I can't believe we are doing this in the middle of summer when ice cream is at its best. This means I will have to go another year without trying the sunflower ice cream available for two weeks at Buttonwood Farm in Griswold. Bummer.
We had blood work drawn last week so we can compare now and then. Stay tuned to hear how it's going. I for one anticipate […]
The China Study
Maggie Downie
2017-09-12T19:31:51-04:00