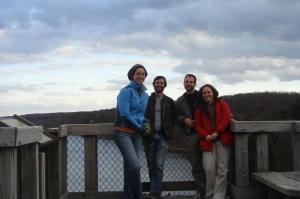 Next time you go for a hike in Connecticut feel lucky. Not only do we have places you can go and hike like Case Mountain in Manchester or Devil's Hopyard in East Haddam, but the places we have are simple paths through the woods without man made structures lining your walk. The most man made it gets in Connecticut is a hash mark on a tree or rock marking a trail.
Last week when I went to Chicago to visit my friend, Julie, we drove two hours outside of the city to go "hiking" at Starved Rock State Park. Julie will hate me for putting parenthesis around hiking because she really wanted to go on a hike, not a walk. And, since Illinois is pretty flat, and we'd driven through nothing by cut corn fields to get there, I'd been teasing her along the way that we were going to have a leisurely stroll through some woods. I think I can safely say that we were both a little surprised when the elevation actually increased about 100 feet upon […]
Happy to Hike in CT
Maggie Downie
2017-09-12T19:32:04-04:00
When I arrived in Chicago to visit my friend Julie, one of the first suggestions she made was that I go see "The Bean" in Millennium Park. A park of modern sculpture didn't sound like a very good idea, and a sculpture that looked like a bean sounded especially terrible, but Julie was pretty insistent so we went.
The moment I saw it, I knew why she wanted me to go. It was my favorite part of Chicago (which is a really cool city). The Bean is giant and looks like a giant water drop distorting the view of the city and everyone who looks in it. It's reflective, but not made of mirrors and in some places you can see eight reflections of yourself.
The Bean was wonderful and a good reminder that sometimes we need to stay open minded. I assumed I'd have no interest in it and then wound up loving it. Sometimes we don't know ourselves as well as we think we do, and often we don't truly understand something until we see it with our own eyes.

Chicago–The BeanMaggie Downie2017-09-12T19:35:24-04:00