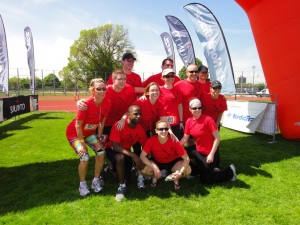 I felt completely disheartened and weak. The only thing getting me through was the fact that even with all the hills I was hoping to run a 10-minute mile (that is what I typically average), which I understood was pretty unlikely.
With 1.5 to go,
I seemed to be on par for a 10-minute mile and it made me feel good. But when I'd gotten to the 1-mile to go sign, I realized that the previous half mile of flat ground had nearly wiped me out and had taken me seven minutes. I was losing steam and wasn't going to make my ten minute mile goal at this rate. I knew I wouldn't see my team again because they had to get to the next exchange, so I only had myself to get me through. I just kept telling myself to keep running, but the person who felt like the king of the world five minutes ago who was so proud of her great accomplishments suddenly hated herself for forcing herself to keep running.
Ragnar Relay Part III: The Finish
Maggie Downie
2017-09-12T19:31:55-04:00
Okay, I'll admit it. I kind of watch Dancing with the Stars. I actually don't watch, but after the show I find clips online of the dancers I want to see. This season, I'm hooked on Kirstie Alley and Ralph Macchio.
Kirstie has been having a rough go of it. Last week she fell, and this week her shoe fell off. But she keeps such a good attitude about it.
Before anyone dances, the show plays a little recap of the week of rehearsals. Kirstie's partner, Maksim Chmerkowskiy, seems very nice, but at one point he is being critical and tells her, "You're jumping, your steps not big enough, you're tensing up." To which Kirstie responded: "You're handsome, you're a good dancer, you're every girls dream."
I loved it. I'd like to take a little life lesson from this. When life throws frustrating curve balls or sends frustrated people our way (which it inevitably does at times) wouldn't it be nice if we could come back with a reaction like this? How can you […]
A Good Attitude: Kirstie Alley
Maggie Downie
2017-09-12T19:31:56-04:00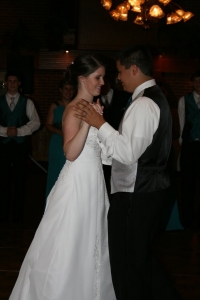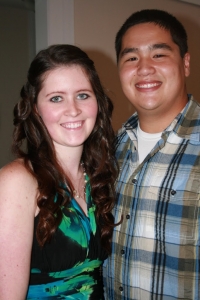 Last weekend my little sister got married. She was a beautiful bride–stunning in fact. Perhaps I'm a little prejudice. Yes, she is my sister and I expected her to look beautiful, but she just took your breath away.
She seemed happy the whole time, which is, of course, what matters most of all. And that made me happy to see. Her husband grew on me even more when he corrected me about his current title in our family.
Since I'm not married, but have been with the same person for nearly nine years, my older sister refers to my boyfriend as her brother-in-love, instead of brother-in-law, which I quite like. When she told our new brother, Josh, that he was going to be her brother-in-love and explained why, he was a little surprised.
But by the end of the night, when I hugged him and said, "Now you are officially my brother-in-law!" He corrected me and […]
Sister's Wedding
Maggie Downie
2017-09-12T19:32:11-04:00
Happy Summer
Maggie Downie
2017-09-12T19:32:13-04:00