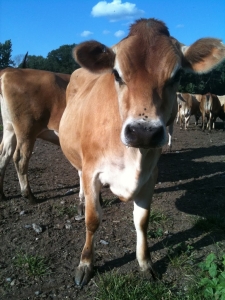 So I have a tough decision to make. I've been gluten free since February and now my doctor would like me to go dairy free. My heart almost sank when she said it, but I tested positive for a gluten and dairy intolerance. I'm into health and wellness, but I'm not well-versed on the intolerance vs. the allergy issue when it comes to food. Still, since I've been gluten free my blood work has gotten better each quarter.
That makes me feel like the answer should be obvious.

Something in my body is saying dairy doesn't agree with it so I should just give it up.

I'm still allowed goat's milk, goat's cheese and buffalo mozzarella.

This change would be good for my body.

On some level it should be a no brainer; so why is the decision so hard?
Food is such a part of our social world.

Giving Up Dairy

Maggie Downie

2017-09-12T19:31:28-04:00
I asked what you wanted to hear about in the blog and someone asked for a discussion on how seasons affect exercise. For me, anecdotally, the change of seasons are always a time to turn over a new leaf or start something new. It's like we have four quarters to breaks activity up.
Some of the ways the seasons tend to effect exercise are obvious. We are all more likely to do more outside in the summer. There are different sports in different seasons, so if you like skiing, but hate the heat you might get in better shape in the winter months.
We all know that colder weather can be felt in our joints and our lungs. Hot, humid weather can make exercise miserable, so what really changes in our body during different seasons? Here are just some examples.
• A US study shows that blood pressure increases during the winter. They tend to think this is because we generally work out less in the winter and eat more, but it might also […]
The Seasons & Exercise
Maggie Downie
2017-09-12T19:31:41-04:00
My allergies are the worst they have ever been this year.
I went to my doctor for suggestions of natural remedies and she suggested local honey, which I've taken in daily tablespoon doses before. Honey is probably the best tasting medicine in the world. She also suggested nettle.
So I went to The Natural Food Store in Niantic–it's still one of my favorite health food stores, and they are very helpful. (If you know of any Hartford-area health food stores I'm open to trying somewhere more local.) In Niantic they recommended a pill that is a combination of quercetin, nettle and bromelain (all plant based). I started taking it an had relief by the next morning. I still have mild allergy symptoms–a tickle in my throat, but the itchy eyes, post nasal drip, sore throat, and swollen eye lids are all gone.
You should always talk to your doctor before you try something new in your body, but if you are suffering from allergies, these natural remedies might be good […]
Allergy Season
Maggie Downie
2017-09-12T19:32:13-04:00