This life is short and the time we get here will pass quickly.
So now and again it's always good to check in and make sure you are doing things that make you happy.
When was the last time you had a good belly laugh?
And it's unrealistic to assume that everyone can just change jobs.
But if you don't like your job, what can you change to make it better for you while you are there?
And what can you do when you are away to reinvigorate yourself before you return the next day?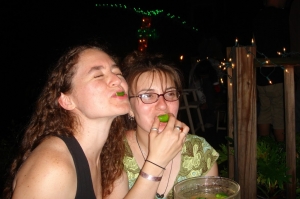 I know I'm lucky to love my job because not everyone does.
Here are some of the things that make me happy:
·
Having a goal; something I'm working toward
·
Total relaxed time to do nothing (RARE)
·
Movement (hiking, kayaking, running, trying new things and experimenting with what my body can do)
·
Resting on a blanket in the sun (for a little while)
·
A back rub or a foot rub, basically having anything rubbed
Being Silly (see photo above as example)
Here are some things that often bring full belly laughs:
·
Playing setback with friends
·
Playing celebrity (kind of like a charades game)
·
Good comedy—some current favorites : Ben Elton and Louis CK
·
When I make certain mistakes (sometimes screw ups and misunderstandings are just plain funny)