So a couple weeks ago at the Wethersfield Farmer's Market I bought a recipe book for raw smoothies.

It has 30 smoothie recipes, so Matt and I have challenged ourselves to try all thirty.

We aren't shooting for 30 all in one month, that would be a tad too much pressure, but we want to try them all in a timely manner.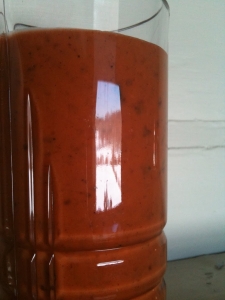 So far, we've tried two and it's just okay.

The smoothies call for a lot of nuts and it just makes them so heavy.

But I'm learning.

I think I should reduce the nuts a bit and add more ice.

That will make me more likely to stick to this challenge and make them again.

But then the downside is that I think I'll get hungry quickly.

When I started, I assumed I'd use the smoothies as a snack because there was no way a smoothie could be a meal, but put three ¼ cups of various nuts into anything and you'll be full for some time.
My first smoothie attempt made me stop and question if I'd read the recipe right.

I hadn't.

A quarter-cup of nuts, ground is different than a quarter-cup of ground nuts.

Needless to say it was very heavy and probably had double the amount of nuts the recipe called for.

Even if I'd read the recipe right, I'm not sure cashews, as much as I love them, were made to be ingested as a liquid.

Matt liked it.

He's a good sport.
My second attempt was much better.

I measured all the nuts and seeds right and added extra ice.

It had dandelion greens.

All of the smoothies nicely disguise pureed greens.

Still it was very heavy.

I could barely finish the glass, but it was tasty.

Turns out I don't mind drinking pecans.
What I like about starting the day with a smoothie is that I'm pretty sure I get three or four fruits and veggies out of each smoothie.

It almost seems like I've accomplished as much as when I run 10-miles before seven A.M.