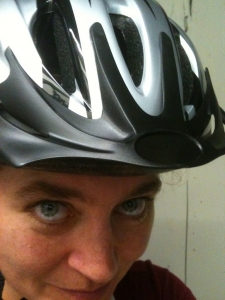 So I'm not an avid bike rider. Riding is completely new for me, and a lot more enjoyable than I expected, although I'm still not thrilled about sharing the road with cars or how much my butt hurts after a ride. At first I didn't want to invest anything in this new activity because I didn't know if I'd stick with it, but I've been going out about once a week, and I've been riding without a bike helmet. Though that was okay when I was a kid, it seems pretty foolish to skimp on helmet safety nowadays.



A friend told me that the town of Wethersfield, Connecticut sells bike helmets for $10, so I picked one up today. They help you make sure it fits and they get them from an organization that sells at cost to non-profits. I'm not sure if your town participates in this program, but it would be worth checking out before you invest in a really expensive helmet.

I can't speak for how stylish the helmets are, but then again I'm not sure anyone looks good in biking attire.

Actually, I can say for certain no one looks good in biking clothes.

So now that I've got my new helmet, I need to work on a newer bike.

Mine squeaks, has a tire that needs to be re-inflated after every ride, and as of this morning the kickstand has nearly fallen off.