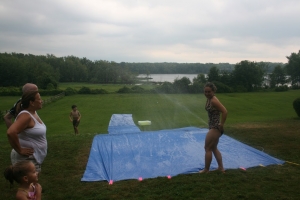 When Matt and I bought our house in Old Wethersfield we decided it would be fun to have a giant slip and slide party with an adult-sized slip and slide. We'd learned that Toys R Us only sells them for kids, which means as a fully grown person the ride is very short-lived and chances are you are too wide to ride.
Over two years later we finally got around to hosting a slip and slide party with a 140-foot long slide.

We had over fifty friends and family coming over for a summer picnic and a slip and slide party.

An hour in it started to rain.

I think a slip and slide party is probably the only type of summer picnic that rain could help improve.

We were able to turn off the hose and the speed of the slip and slide nearly doubled with all the water running down.

It was so much fun.

I felt ten years old (until the next morning when the aches and pains set in).
Usually when it starts raining you run for cover.

When the rain came we were all already in bathing suits and happy to stay out and play in the rain.

When do you do that as an adult?

It felt wonderful.

Those who didn't go down the slide stood inside or under tents and watched.

Just watching everyone's expressions, flips, and moans as they hit the grass was entertaining.
Kids had a great time, but I think the adults liked it even more.

Since we rarely get to feel like kids we appreciated it on a different level.
Finding your inner kid now and again is always a wise and good endeavor.
Personal Euphoria
y to stay out and play int he

run for cover.

When the rain came we were all already in bathing suits and readyter running