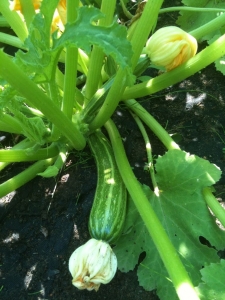 Zucchini's are coming up in my garden.

I found them this weekend when I was weeding (and it made the weeding totally worthwhile—never thought I'd say that).

But here's the thing…I don't know what to do.

I don't know when to pick them.

How do I know when they are done?

How do I know when they will taste the best?

I want to beat the bugs to them.
Seeing them was a complete surprise—a moment of the more we learn, the less we know.

For one, now that I know I have zucchini's I realized I'm filled with questions, but also I didn't realize prior to seeing them that I did not know how or where on the plant a zucchini grows.

I'm a bit embarrassed to admit it.

I can't wait to eat my first personally home-grown, heirloom zucchini.

I've been eating the salad greens from the garden nearly every day and it's a treat to juts walk out in the yard and pick my lunch.