Really, when it comes to eating healthy this is the best time of year to get back on track, except for the fact that ice cream exists.

Still, if you are local to Connecticut, we have some great farmers markets.

The Coventry farmers market is my favorite place to spend a Sunday morning, and I've really been enjoying the Thursday afternoon Wethersfield farmers market.

They have a great location on cove park right be the DMV.

It's a great place to come for a stroll and then pick out some local veggies, cheeses, pies, smoothies, crafts, eggs, humus, and milk.
But it got me thinking that this is the time of year to really try a challenge.

I even have my own garden that is producing all sorts of fun, healthy items.
Here are just some healthy challenges I thought of.

Since it's summer and I don't want anything to really feel like extra work, I thought I might be able to commit to each for a week instead of the month I normally shoot for.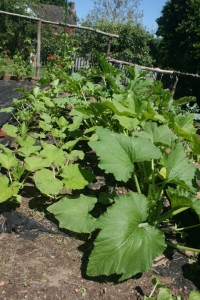 (The squash in my garden.)
1)
Don't eat anything that has natural ingredients listed.

You'll be surprised how often this pops up.

I'm not sure natural ingredients are bad for you, but it means it can be about one of thirty different things.

I don't like natural ingredients just in protest—just tell me what is in my food so that I can know what I'm eating.
2)
Really try to get the recommended number of fruits and veggies each day.

I think that means five servings of veggies and two-four fruits per day.

This will be the hardest challenge for me.
3)
Make one meal a day a salad.

I get a little hungry when all I eat is a salad, so maybe a bit later in the day you can have a few nuts or half a sandwich instead of a whole, but make sure one meal a day is a big, healthy salad with lots of different veggies (and a healthy dressing choice.)
So do I have any takers?

Anyone want to try some of these challenges with me?

It will be easier to know we aren't doing it alone.