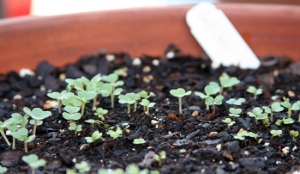 So far this is shaping up to be a good spring.

Our bees seem to be doing well and my heirloom garden is also starting out well.

My tomato plants seem to be struggling a little bit, but I think they will make it through.

I have beans popping up and it seem like you can visibly see them grow from day to day.

The zucchini and squash sprouted almost immediately.

The bok choy is coming up and looks like clover.

I had to look it up on the internet to make sure I didn't weed it.

And that is the only challenge—figuring out what is future food and what is a weed.

I'm not positive what is going on with the beets.

It's hard to tell if they are growing or just surrounded by weeds.

I have the same problem with the carrots.

Time will tell I guess.

For now, if it's in the area labeled beets and any part of what is growing has red in it, it stays.