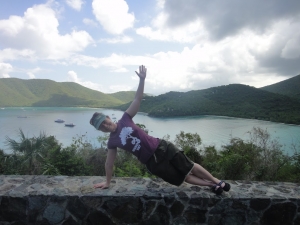 Whenever I travel I like to find a fun or interesting back drop to do plank.

Changing up the location can always add some extra amusement to a workout.

Whenever we take a picture on a precarious location like a wall with a drop into the ocean behind it or on a paddle board, I try my best to make it look like I'm doing a good plank, but in reality it's a lot of me falling over and laughing as Matt tries to get the picture and camera just so to create a perfect shot (which can take time).