So last summer my cousin helped me (by which I mean my cousin did almost all the work) build me a two tiered garden.

And now this spring I want to plant, plant, plant.

My goal is to do an entire garden of heirloom vegetables, but I don't have a green thumb so I'm a tad nervous.

I am open to any and all advice.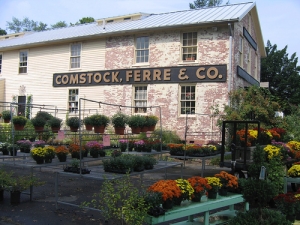 I went into Comstock Ferre in Old Wethersfield today.

They are the oldest seed company in the country.

There packages of seeds look like art.

It's really a beautiful place.

I highly recommend you stop by some time, especially if you like to garden, like antiques, or unique artisan crafts.

I bought a book on heirloom gardening that I can't wait to read.

I plan to get all my seeds at Comstock to help support a local small business that I want to stick around for another 201 years.
Note about Comstock—if you are or know a local artisan Comstock might just sell your stuff.

You can call to make an appointment with someone to talk about selling your craft items.