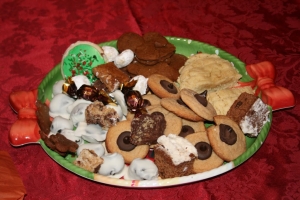 I make cookies and bread every year for Christmas. I've removed a few from year to year, but my list this year includes five different types of cookies and one type of bread. I may make one more type of cookie if time allows. I have it easy. I know someone making 15 types of cookies.
I had a little debate going into this holiday season though. I thought that I shouldn't make the cookies because they aren't good for anyone and there is always plenty of other food. I thought it might help me and my family and friends eat better.
Then two people mentioned they were looking forward to my cookies. It didn't take much to change my mind. I really enjoy some of my cookies too and I only have them once a year. How could I not make the cookies that only come around during the Christmas season?
Was it the right choice? I don't know. None of us need the sweets and in a world where diabetes seems to be becoming the norm, it's probably healthier to JUST SAY NO. But then there is tradition and the food that we talk over and remember.
I'm making the cookies, but come January 1 I'm going to have some explaining to do to my body. And I'm going to need to get back on the healthy trail bandwagon, especially if I want this to be the healthiest year of my life. Till then, I'll be biting the heads off of gingerbread men.