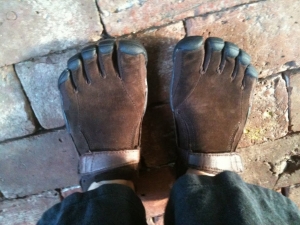 So I got myself a pair of
Vibram Five Fingers
. I've wanted them because I'm really curious about whether or not they are better for your feet, but I've hesitated because I think everyone looks downright silly in them. And I think they might be a bit of a fad, and I never really like getting caught up in fads.
But my fascination took over. And I tried a pair. They are so comfortable on my feet. I'm going to start slow, just with walking around. I don't know that I'll ever opt to run in them. I'm more apt to try hiking someday.
It's not as hard to get my toes into them as I expected. After about the first five times I put them on most of the time they go in fairly easily. So far I'm really happy and hoping I can get enough wears in before it gets too cold.
I do look really silly in them though and every time I look at my feet I want to laugh.