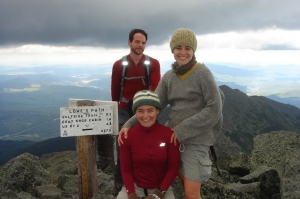 I'm pretty sure the song is, "Come on, Ilene," but post tropical storm Irene I've altered it so that I can whine and have a disgruntled plea to Irene to erase all that she did. This whining is unwarranted because I was very lucky, not only do I have my home and wasn't trapped anywhere, but I only lost power for about 36 hours. In the scheme of things: not bad at all.
But Irene has not gotten in the way of my preparation for challenge #3 (Hiking the Grand Canyon) and my yearly Labor Day tradition. For probably the past 10 out of 12 years I've gone to New Hampshire with friends to hike in the White Mountains. This year we were going to go backpacking (which we've done before) and hike 8 miles one day and 11 the other (which we haven't). We were using the trip as preparation for the Grand Canyon, but Mother Nature saw fit to destroy some of the roads to get us there and wash out many of the trails.
At first as the White Mountains were re-opening trails with caveats like "passable but must walk though 200ft of 2ft deep water" I was thinking it might be sort of fun to go anyway, but then I decided it might be foolish.
I'm just bummed. I had visions of me standing on one of the many 4,000-footers that New Hampshire has with great views all around. I'm going to miss it this year. It's a fabulous place. And as I write this (actually the Thursday before Labor Day) I'm still not sure what I'll be doing for Labor Day weekend.
I hope you and your families have a fun weekend—filled with power and electricity running safely to all of your homes! And I hope by Monday, I recognize that in the scheme of things, I really have nothing to complain about.