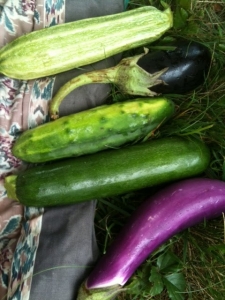 I love the Coventry Farmer's market. If you've never been, it's a real treat on a Sunday afternoon. When Matt and I have a free Sunday, we like to go and get lunch from one of the vendors, eat a picnic lunch and then stroll around and buy some fresh veggies, cheese, breads or soaps. It's a nice way to spend a couple of hours. The veggies above are all from the market.
I'm happy to try new things, but I also can get stuck eating something I know I like. One of the vendors offers a pulled pork sandwich topped with coleslaw. I'm a big fan of this sandwich for lunch and usually get it. As a vegan this was not a good option. So I tried a veggie burrito sans cheese. It was great. I didn't even miss the cheese; it was so flavorful. It's not that I never would have tried this burrito, but it's highly unlikely I ever would have tried it without cheese. And now I now it's good. I don't need the cheese if I get it again.
I do appreciate the new versions of things that I am trying. I especially enjoy them when they are good, which most of them are.