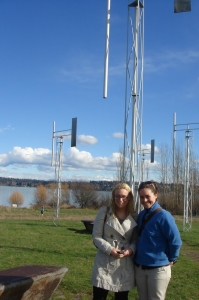 When I went to Seattle last week, I made time for two pilates classes. I used to not work out when I traveled, partly because I looked at a vacation as a time to relax, partly because my vacations are always so active and jam packed I didn't make time, and partly because flying and time changes seem to completely mess with my system. But last time I went to Chicago I took a pilates class at a local studio and it was so much fun. Their style was different from what I was used to and I felt like I learned a lot. I can't wait until my next trip to Chicago to go back. It's like missing Italian food when you can't be in Italy. Or Belgium beer, or French wine, or Maine lobster—you get my drift.
Trying pilates in a new place made it fun and like an adventure that was part of my site seeing. So that's my new thing—trying pilates in different locals. I can't wait to try pilates somewhere I don't speak the language, although I'm pretty nervous about it.
In Seattle, I tried two different studios. The first wasn't that great, but the second was a lot of fun. I took a Bosu and Ball class through Body Center Pilates. The instructor was a lot of fun and very nice. They were a STOTT studio (which is the organization I'm certified through), so it was all very familiar.
My cousin Phoebe joined me. It was her first experience with pilates and she did great! I meant to take a picture of us on the Bosu's but I forgot.