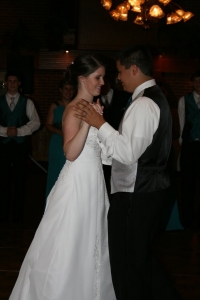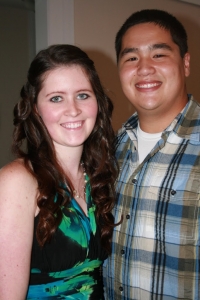 Last weekend my little sister got married. She was a beautiful bride–stunning in fact. Perhaps I'm a little prejudice. Yes, she is my sister and I expected her to look beautiful, but she just took your breath away.
She seemed happy the whole time, which is, of course, what matters most of all. And that made me happy to see. Her husband grew on me even more when he corrected me about his current title in our family.
Since I'm not married, but have been with the same person for nearly nine years, my older sister refers to my boyfriend as her brother-in-love, instead of brother-in-law, which I quite like. When she told our new brother, Josh, that he was going to be her brother-in-love and explained why, he was a little surprised.
But by the end of the night, when I hugged him and said, "Now you are officially my brother-in-law!" He corrected me and told me he was my brother-in-love. In that moment I liked him a little bit more and realized that he would fit into the Downie family just fine.
I guess this post isn't a health and fitness tip per say, but it is an example of good attitudes and love, which are two pretty important factors in a good life.